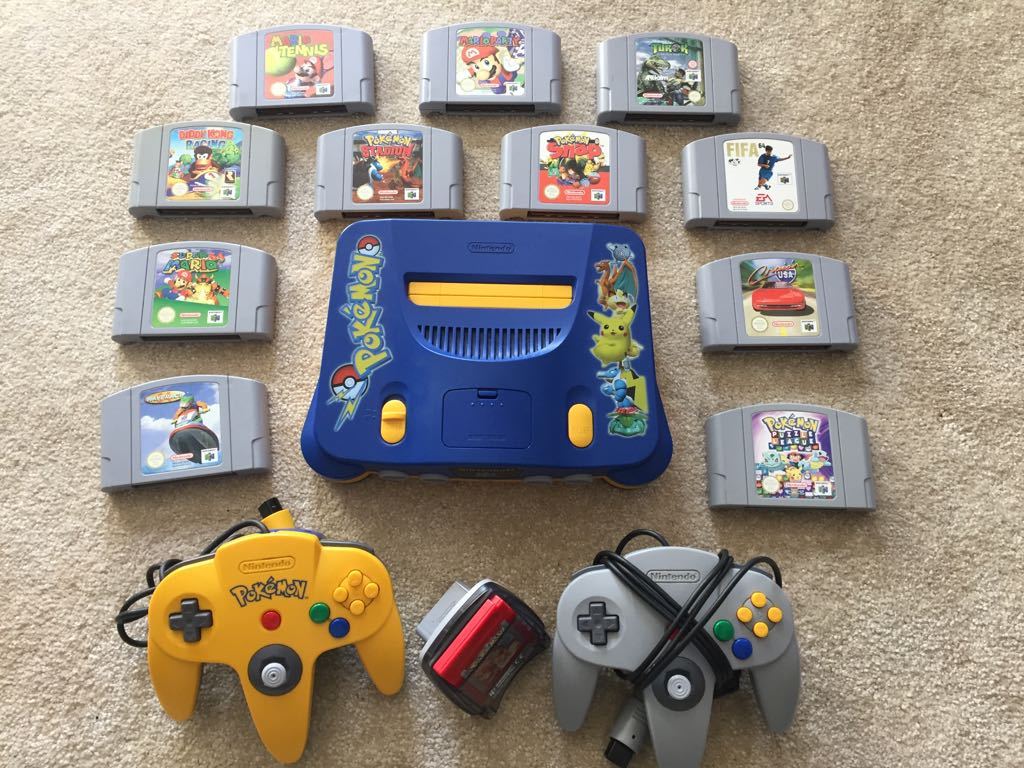 Hope you don't mind me copy and pasting the description from my Ebay page, I am tired!
N64 Console: Pokemon Stadium Edition with 11 games, two controllers, Transfer Pack and Pokemon Red!
http://www.ebay.co.uk/itm/232288849802?ssPageName=STRK:MESELX:IT&_trksid=p3984.m1555.l2649
I am selling my much loved and cared for N64 Console: Pokemon Stadium Edition as I am relocating to Australia. This limited edition console is a fantastic retro gaming machine and looks great!
I will include with the console 2 controllers, 11 games including the Pokemon Stadium Game and the Transfer Pack. Plus, I will throw in my Pokemon Red Gameboy game that can be used with the Transfer Pack!
The 11 games are:
Pokemon Stadium
Pokemon Snap
Mario Party
Super Mario 64
Mario Tennis
Diddy Kong Racing
Wave Racer
Crus'in USA
Fifa 64
Pokemon Puzzle League
Turok
(+ Pokemon Red and Super Mario Land for the gameboy)
Everything has been tested and is in full working order. The console will be very safely wrapped for delivery. Get in contact if you need any more information, thank you!
I hope you will enjoy this console as much as I have